Lyn Gardner | The Guardian | Monday 11 April 2016
3/5 stars, Roundhouse, London
This all-male troupe impress with their human cannonballs and religious spin on the wheel of death, but the audience remains emotionally detached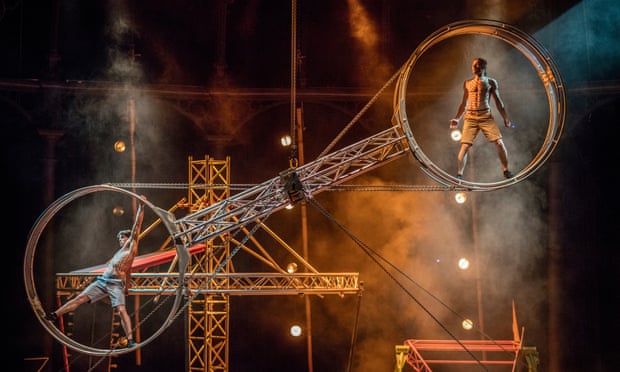 Wheel of death … Super Sunday at the Roundhouse, London. Photograph: David Levene for the Guardian
CircusFest 2016, taking place at the Roundhouse and at venues beyond Camden, features plenty of exciting UK circus talent, but first off is the Finnish company Race Horse, who made an impressive UK debut six years ago with Petit Mal at the Southbank.
This latest, very likable show, performed by six relaxed young men in Hawaiian-style shirts with more than a touch of bare-faced cheek, confirms the talent, even if it's another example of an all-male circus company serving up lots of blokeish larking around. On 12 April, the Roundhouse hosts a salon on circus and genderconsidering the dominance of all-male companies and the under-representation of women. It's not a moment too soon.
This show boasts plenty of skilled and highly watchable acts, including a wheel of death, some particularly bouncy trampolining, and more than one variation on the human cannonball. But so much equipment is required that the show has a stop-start quality, as one piece is removed and another brought on, and the transitions are not sufficiently imaginative to cover the joins.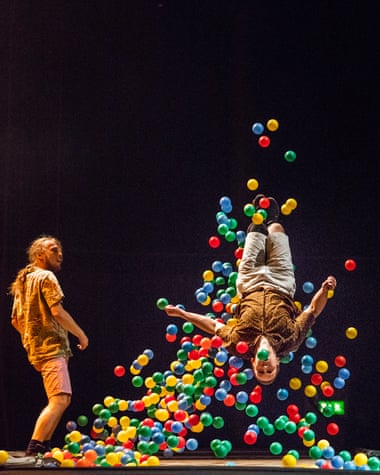 Having a ball…Super Sunday. Photograph: David Levene for the Guardian
Super Sunday begins with a nod to both the western and the carousel, but does this fairground actually exist or is it simply a state of mind, a place that represents young adulthood and where the men pit themselves against each other and their own willingness to take risks? The yellow sodium glare of the lights suggests something otherworldly.
There's a seesaw on which they perform impressive acrobatic feats; a high striker against which strength is tested. A moth-eaten bear – which along with the multi-coloured balls used in another sequence is fast becoming a familiar contemporary circus trope – wanders around and is reluctantly forced to participate and sent flying. The bear introduces a wistful quality, but like the comedy it's never fully exploited. The piece lacks a tonal coherence.
In the final section of the show, the fairground theme suddenly gives way to a religious leitmotif that comes complete with liturgical music, as a Jesus figure is introduced on a crucifix and then tied to the wheel of death like St Catherine. Although St Catherine probably wasn't attached to her wheel by clingfilm.
There's so much talent and potential here, it just needs to be framed in a way that allows us not just to admire the skill on display but also to feel some emotional connection to the performers.
At Roundhouse, London, until 16 April. Box office: 0300-6789 222.
IMAGE CREDIT: David Levene for the Guardian
ORIGINAL SOURCE: http://www.theguardian.com/stage/2016/apr/11/super-sunday-review-circus-roundhouse-london